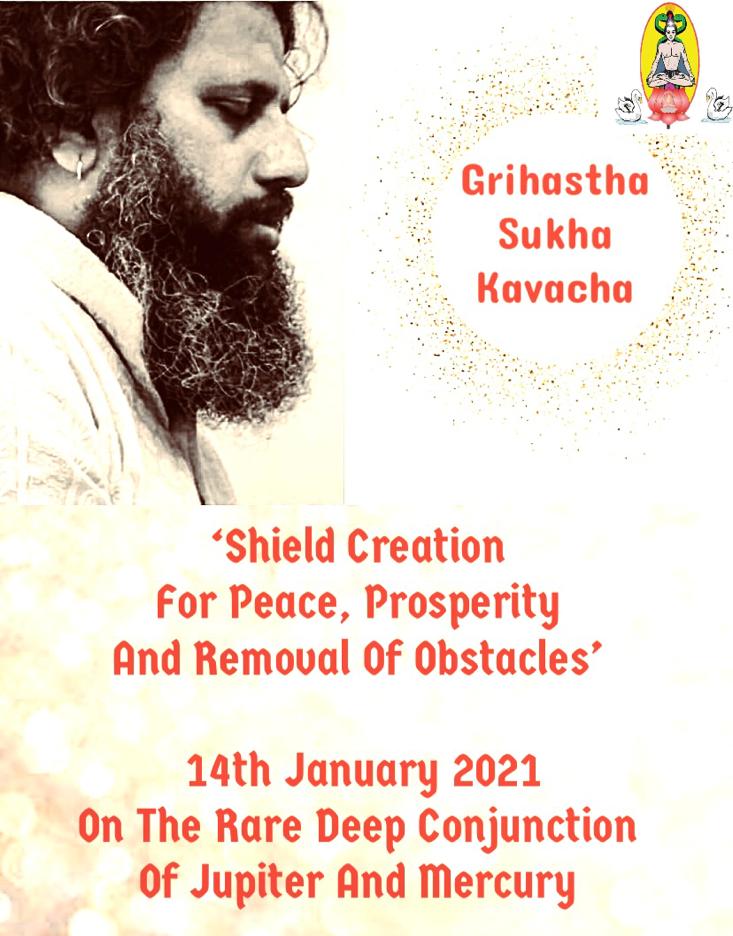 PER PERSON COST: INR 2100/-
REGISTRATION CLOSES: 8 JAN, 2021 - 6 PM (IST).
As we step into 2021, Soul Searchers bring you a sacred process "Grihastha Sukha Kavach". A powerful technique given by our revered Guru Sri Maitreya Rudrabhayananda ji, Grihastha Sukha Kavach creates a shield for the entire family. It paves the way for:
Safeguarding health
Removing obstacles
Clearing deep rooted emotional and financial issues
Bringing peace, prosperity and happiness in a spiritual way as guided by the Divine.
Grihastha Sukha Kavach involves two processes
Installation (Sankalp): 14th Jan 2021 between 04.45am-08:00am IST.
Meditation: 14th Jan-11th Feb 2021 (15 minutes)
This date is an extremely rare event on the cosmic calendar. It signifies the conjunction of Jupiter and Mercury. Conjunctions of Jupiter with Mercury and Sun with Saturn normally happens 25 times in a period of 100 years. Amongst them the *Deep Conjunction* periods are about 25 in 500 years. This is a supremely divine period occurring only 4 times in this century. The date is very significant and may be used as a platform for this valued process.
This process should be done only by the person who registers for it. He/she will be the assigned taskmaster in their household. This is an energised divine process and may not be shared or divulged.
The details of the simple and easily available materials needed will be sent via email by end of day on 9th January 2021.
Do kindly familiarise yourself with the process and get all the materials organised before 14 Jan. Guided methodology video for Sankalp will be available for participants from 12-14th Jan, and for the meditation from 12 Jan till 11 Feb 2021.
Contact numbers for inquiry: Delhi/ Mumbai: 9873427379Banglore: 9880008265
Call between 10am to 5pm.